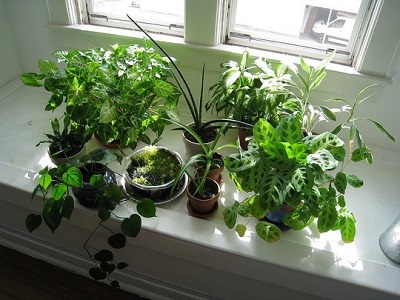 Window tinting can save you significant money on your heating and cooling bills, protect your furnishings from fading, and protect your skin from the damaging rays of the sun. If you have a green thumb, however, you might be concerned about whether or not residential window tinting will kill your house plants. In almost all cases, it won't. In some cases, it can even help them be healthier. Here's what you need to know.
Invisible UV Film and House Plants
Invisible (or clear) UV film is one of the most popular forms of window tinting. This type of tinting film blocks ultraviolet rays (the damaging rays) from the sun while allowing your windows and doors to retain their normal appearance. This type of tinting should not affect your house plants. Most plants do not respond to UV. They require the red and blue rays of the visible light spectrum; blue encourages the growth of leaves, while red encourages flowering. Since invisible UV tinting doesn't block these rays, your plants should grow normally. Colored films may block some or all blue or red light, so use caution when using these films around your indoor garden.
Plants and Room Darkening Tint
Dark tints are another popular window tinting option. These tints actually darken the room, blocking some of the sun's visible light from getting through. Because this type of tint will block some of the red and blue light plants require, you'll need to take special care if you want this type of tinting. Generally speaking, dark tint is not the best choice for rooms in which you're growing plants that like direct sun. Fortunately, these plants tend not to do well indoors unless you have a grow light, so it's likely that light from windows won't be a major concern. Dark tint is, however, a good choice if you have delicate flowers or other plants that need full shade. With dark tint, you may be able to place them right by windows with no ill effect.
Frosting Tints Retardation of Growth
Most forms of frost tinting (other than very dark tints) have little to no effect on plants, as long as they are already getting enough light. Your house plants may, however, need a slight adjustment period. You may notice a minor reduction in their speed of growth for a few weeks until they adjust to their new light levels. If you have any major concerns, speak to a horticultural expert. You may be able to mitigate any problems by moving the plants slightly, adding some inexpensive grow lights, or just waiting for them to adjust. Don't let using grow lights stop you; they simulate sunlight and can help you avoid the winter blues during the colder months, cost very little to run, and you will most likely be able to offset their cost with what you're saving on your heating and cooling bills.
Benefits to Plants 
Window tinting, under certain circumstances, can actually benefit your plants. Because tinting help keeps out heat, it can help protect delicate plants from excessively high temperatures, especially during the summer months or if you live in an especially sunny climate. Many delicate flowers may especially appreciate a break from being near a hot, steamy window. Whatever house plants you have, you can make them work with window tinting and enjoy the health and psychological benefits of being surrounded by green, growing things while also enjoying the energy savings that come from tinted windows. Feel free to contact us for any further information; we look forward to helping you create the home of your dreams.