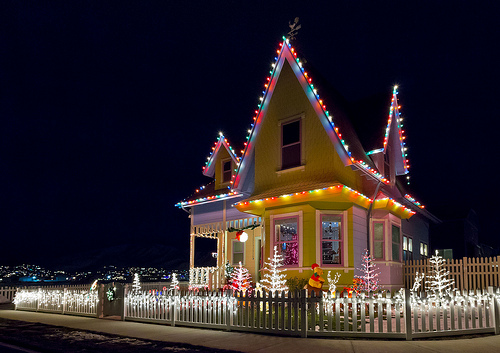 With the holiday season upon us, it is time to get your home ready to spread the cheer. One way to do this is by hanging Christmas lights up on the exterior of your home. However, before you get started, consider these tips that will make setting up more enjoyable and help ensure your home is considered a neighborhood showplace instead of an eyesore.
Make a Plan
Instead of grabbing a bunch of lights and "winging it" with your design, you need to come up with a plan. Consider the style of your home because you will want to avoid a garish design and go with one that compliments your house and landscape. For example, whether you have a one-story ranch or Victorian-style home, a classic look can be had by running string lights along the roofline and outlining other architectural features of your house.
If you have never decorated your home with lights before, consider how the other homes in your neighborhood are decorated for a general feel to avoid clashing styles, Be careful not steal someone else's design. No one wants to be known as the "Griswold Family Christmas" house on the block either. If you belong to a homeowners' association, be sure to stay within the guidelines for holiday decorations to avoid problems with your neighbors.
How Many Lights Do You Need?
Should you go with white or multicolored lights? Miniature or C9 light strings or icicles? There are so many types of lights in which to choose. Measure the length of where you are placing your lights to determine how many strands you will need. The most important thing is to make sure you have enough lights to achieve the look you are going for. With all the types of LED Christmas light now available, you can hang multiple sets of lights without having to worry about an extravagant electric bill come January.
An easy way to calculate how many string lights you will need for your trees or shrubs is to measure the height of the area you are decorating, divide by 1.5 and then multiply by 100. Using this formula, a 6-foot tree will need 400 lights. One of the easiest ways to decorate your shrubs is by using net lights.
Safety First!
You will need to have a suitable power source to supply power to your lights. It is best to use an outlet that is equipped with a ground fault circuit interrupter (GFCI). In the event of overcurrent, this type of outlet will shut the power down to prevent blown circuits or sparking wires. Be sure to use extension cords that are rated for outdoor use and tape them down securely if you must run them across walkways. Remember to turn your lights off when you are not home or installing a timer to turn them off at the end of the evening.
Before hanging your lights, make sure to inspect them for frayed wires, missing or damaged bulbs, and most importantly, plug them in to make sure they light up. Dispose of any damaged light sets to prevent a fire or shock hazard.
Once you are ready to hang your lights, make sure you are using a sturdy ladder. Only use insulated holders or clips made specifically for hanging lights. Never use nails, tacks, or staples. There is a variety of plastic light clips on the market for almost every type of light including rope lights, C9s, and miniatures that will not damage your home.
Once you are done, it is time to sit back and enjoy the show!