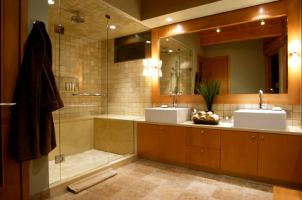 One place which doesn't get nearly the attention it deserves when it comes to mood lighting concepts is the bathroom. We all spend at least a little time each day in the bathroom and this may be the place where setting the proper mood is pivotal. When you're in there you don't want any distractions, you don't want to feel as though you are under some fluorescent nightmare, and you generally want to walk out of the bathroom looking your best.  Here are some ways to create a relaxing mood in the bathroom with some lighting concepts.
Overhead: The first thing you should do to set a proper mood in your bathroom is get rid of the overhead lights. If you have a fan that's connected to the switch for the light and you want to continue to use that you can actually take the bulbs out so that you don't need to be bothered with that upsetting overhead light.
Puck Lights: One of the best ways to create a mood in a room is to isolate the light. Puck lighting lets you do just that. Puck lights create a small spotlight that you can use to really set a mood in the shower, at the sink or over the toilet. Puck lights are a great light to use late at night when you have to escape to the bathroom but you don't want to wake the rest of the house.
Sconces: Another great way to add mood lighting to your bathroom is to use wall sconces at various points along your wall. Sconces can be set with bulbs of different strength and they can really just be positioned almost anywhere that you want along your wall. As long as you can get power to it, your sconce can set exactly the mood you are interested in.
Floor Lamps: To really get the mood set in your bathroom some people even go as far as having floor lamps set up in the room. You can get floor lamps which have got a short boxy feel so that the light is all kept around the source. You can also get floor lamps which point up at the ceiling to help cast light all over the place. Whatever type of mood it is you are interested in setting you can pretty well get that accomplished with a floor lamp.
Any of these styles of lamps can really help set the mood in any room in your home. Bathroom mood should be relaxing whether you are taking a bath, exfoliating your face, or anything else. You want your bathroom to be a calm and soothing place. Switching out the harsh overhead lights you currently have for something a little more ambient may be just the thing your bathroom needs!