Laminate flooring is a hard floor made with layers of several different materials, including wood, plastic, cardboard and glue squeezed together under pressure.  This process makes laminate floor very strong and durable.  Though it is a recent invention,  it has become extremely popular because its simple to install laminate flooring.  Laminate flooring is widely available all over the US.  Most hardware stores and home centers carry a wide selection of laminate so you can get the look you want at the price that is right for you.  Just about any homeowner can install laminate floor using common tools.  If you are looking for a hard floor alternative to carpet, but you are not ready to commit to hardwood or stone, you should have laminate floor on your short list.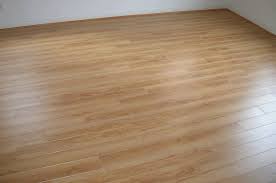 Installing laminate is a simple procedure.  The first step is to remove the existing flooring.  Be sure to remove any glue, nails or staples protruding from the sub-floor.  Once the floor is smooth, you will be ready to install the new floor.  Start by placing the substrate, which is usually a thin layer of plastic foam.  You can secure the substrate with a few pieces of tape at the edges and seams.
Pieces of laminate floor are designed to snap together like enormous puzzle pieces.  Because it is an artificially manufactured product, there are typically six or eight different patterns in a box of laminate floor.  Mixing the pieces will ensure that two pieces of the same pattern will not be too close together when the floor is finished.  Plans for this now, and your installation will go much more quickly.  Now, you can begin placing the pieces of laminate.
Start in a corner, by snapping a row of laminate; use a saw to cut the last piece to fit.  Leave a ¼-inch gap between the laminate and the wall to allow for expansion.  Now, you will place the next row; be sure to begin with a cut piece so that the joints will be staggered.  Once you have the entire floor in place, install the baseboard of your choice to cover the ¼-inch gap.
Laminate flooring allows you to get the look of traditional hardwood, tile or stone floor, but is much simpler to install.  Laminate flooring is available in just about any color and design that you can imagine.  If you are a do-it-yourself-er looking for a quick and easy way to dramatically change the look of your home, laminate flooring may be a great choice for you.