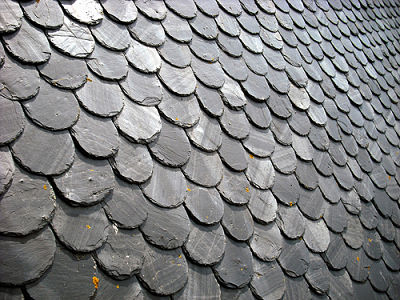 With an overwhelming interest in green living over the past few years, roofing manufacturers have developed a wide range of eco-friendly roofing products. Homeowners can now choose from a variety of styles that are energy efficient, environmentally friendly, long lasting and affordable. Take a look at some of the top eco-friendly roofing products on the market today.
Cool Roofing
"Cool roofs" are made in white or lightly-colored materials that reflect the sun's rays away from your house, rather than absorbing heat into your roof. By reducing heat transfer to your home, they reduce air conditioning costs and create comfortable, more even temperatures, especially in areas with hot, sunny climates. By conserving energy use, they also decrease air pollution associated with greenhouse gas emissions. A high solar reflectance, created with special coated granules in the roof tiles, combined with a high thermal emittance allows cool roofs to stay up to 75% cooler than conventional roofing materials during hot weather.  Note: Asphalt shingles are available in white and light colors, but they are a petroleum based product and not considered eco-friendly "cool roofs."
Metal Roofing
Metal roofs are a great eco-friendly investment for your home. They're made from recycled metal materials like steel, aluminum, copper and zinc that are light reflective, fire-resistant, extremely durable and completely recyclable. Next to tile, copper and slate, standing-seam metal roofing provides the best longevity at a less expensive price. Compared to conventional asphalt shingles which last about 20 years, metal roofing can easily last up to 50 years, so it's highly unlikely that you would ever need to replace your roof. Metal roofing is available in a variety of colors and designs to complement any architectural style, from a century old, rural farmhouse to a contemporary, urban home. For an additional green factor, you can select a light color that promotes the heat resistance of "cool roofs."
Wood Shake and Shingle Roofing
Natural wood shakes and shingles are eco-friendly, biodegradable roofing materials that offer a classic look for more traditional homes. Conventional wood shakes are typically made from old-growth western cedar that's becoming scarce, but eco-friendly wood shakes come from sustainable forests that are certified by The Forest Stewardship Council (FSC), the largest world-wide certifier of responsibly harvested forest products. You can also find wood shakes and shingles that are made using reclaimed wood from old bridges, mills, wine barrels and water tanks. Although natural wood shakes and shingles are beautiful, they are not fire-resistant and should be treated with a fire-resistant coating. If building or zoning laws in your area prohibit the use of real wood shakes or shingles, you can select from shake-like roofing materials that are manufactured from 80% post-industrial recycled rubber.
Clay and Slate Tile Roofing
Natural clay and slate tiles have been used as roofing materials for centuries. Because of their durability and long life, up to 100 years, natural clay and slate tiles can be found on many European homes and buildings dating back to the 18th century. As eco-friendly, natural materials, clay and slate roof tiles offer many advantages. They are fire-resistant, rot-resistant, insect-resistant and maintenance-free, but they can crack or break with force. The biggest drawback is weight. Because these roofing materials are heavy, your roof may require extra support. Clay and slate roof tiles come in a variety of colors, shapes and sizes to complement architectural styles and features on every home. Although they are more expensive than other materials, the long lifespan of a clay or slate tile roof will definitely offset the initial costs.