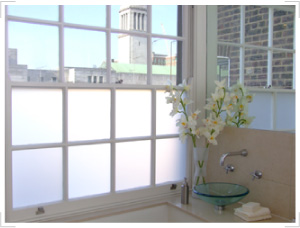 Providing privacy to a home does not mean you have to obstruct a perfectly good view of the great outdoors by using window blinds and drapes. Instead, you can use privacy window films, which still allow some natural light in while helping your home stay energy efficient.
What exactly are privacy window films?
Privacy window films are useful for interior windows and exterior windows. You can also use them on glass doors inside your home where a little bit of privacy is desired. Some people use the films outdoors on patio door windows to add a bit of extra privacy in a space meant for quietness, healing and connecting with Mother Nature. Most importantly, privacy window films are great for providing privacy too a home without making it feel like a jail cell since the ability to look in and out of the windows is still possible. Best of all, window films come in all kinds of different patterns, designs, and colors to match your homes décor inside and outside for a flawless look that provides beauty and tranquility.
What are the benefits of window films? 
The benefits of window films are endless, but to start with they can be wipe down with glass cleaner on a regular basis where are window treatments such as drapes, curtains and blinds need to be taken down and physically hand washed and scrubbed with soap and water. Window films do not collect as much dirt, grime and dust as drapes, curtains, and blinds do, which makes these particular window treatments outstanding for allergy sufferers. In addition, well-maintained privacy window films have the ability to last up to 15 years when cleanse weekly with a soft cloth and window cleaner. Window films also help reduce energy cost by keeping the hot sunlight out during the hot months of summer and the warmer air in during the cooler months of fall and winter. Even better, the film on windows can prevent the glass from shattering into the home and injuring a loved one in the event an object hits it or an intruder tries smashing it in with a baseball bat or other object. These benefits alone are reasons enough to install window films onto your home's windows.
End Notes for Privacy Window Films 
The next time you are in need of adding privacy to your home and need some sort of window treatment that doesn't obstruct the beautiful views to the outdoors you should consider using window films. Not only will they add the privacy you need, but again they will help lower your energy cost and provide safety to your home as well. Best of all, window films are easy to install and extremely affordable window treatments that will last you longer than a decade.