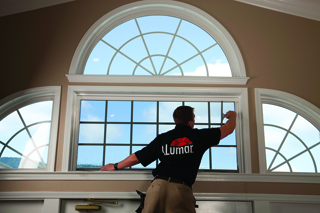 For any home renovation project, there are always people ready to attempt to tackle it on their own as a "do-it-yourself" home improvement project. This is especially true for small projects that do not seem intimidating, such as tinting the windows of your home. After all, this project seems deceptively simple – cut a piece of window tint to size and adhere it to the interior side of the window. But while the job may seem easy, there is a lot more skill and time involved than you might think. Here are four reasons why you should choose to hire a professional window tinting team to install your home's window tinting.
Expert Product Suggestions and Advice
Just like any other products, certain brands of window tint perform better and are more durable. If you are attempting to install your own window tinting, you will not know what qualities and features to look for when purchasing your tint. Many of the products readily available in home improvement stores are much thinner and less effective than the brands a professional company will install. When you first contact a window tinting company, they will discuss the type of windows your house has, as well as your wants and needs. They possess the experience and knowledge necessary to help you select the best window tinting for your house.
Quick Project Completion
Do it yourself projects never seem to go as quickly as intended. Although applying window tint may seem like an easy job you can complete over the weekend, the process of precisely cutting each piece to size, thoroughly cleaning the windows prior to adhesion, and applying the tint without bubbling or wrinkling can be time consuming. It's easy for this "weekend" project to drag on for weeks or even months.
Window tinting companies have a lot of experience and practice in applying tint to home windows. Because they know how to work quickly and effectively, their team will be able to complete the project in no time at all, letting you get on with your life instead of dealing with lengthy renovations.
Professional Quality Results
Window tint is a very thin film that is placed on the interior side of your home's windows. This large piece of film is flimsy and delicate. If you are not accustomed to handling window tint, it can be very easy to wrinkle or tear it while attempting to move it. Many things can go wrong during the installation process as well, such as applying the tint crooked on the window, getting bubbles or wrinkles in the film that you cannot smooth out, or sealing particles of dust and dirt in between the film and glass due to the window not being completely clean.
Due to their vast experience, professional teams know how to install window tint right the first time, every time. In the rare event that something goes wrong, the company will work to correct the problem until you are completely satisfied with the results.
Long Term Increased Savings
Because the window tint available in home improvement stores is typically thinner than the products professionals use, it allows more light and UV rays into the house. This means it will have a much smaller effect on your utility bills. Although it may cost more to hire a professional team upfront, you will make up the difference by enjoying increased savings in the long run.
When you choose to hire a professional window tinting team to install your home's window tinting, you will receive professional results quickly and can start enjoying the many benefits right away.